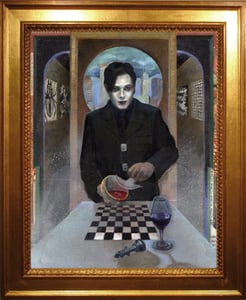 $

1,200.00
A true reflection of these strange times we are living and the creative forces at play within. 'A Portrait of Damon Zex' brilliantly captures the persona of a man, who has transformed himself into a living surrealist work. This is the deification of going radically against the "status quo" lifestyle. A classic, Columbus-nostalgic piece and a monument to Midwest alternative thought.
*larger view and details in 'About' section
-16"x20" Mixed media and oil paint on braced wood panel.
-framed in Italian, gold leaf wood frame with hanger.
-purchase includes a photo collection of process shots documenting each layer from drawing to collage to acrylic to oil paint.
-also includes a printed copy of 'The Supreme Moment of Individual Triumph' essay by Damon Zex and a set of 10 postcards.
-add $35 s&h
-local pickup and international shipping available upon inquiry.